GimmiBYTE, LLC – Professional Computer Repair Services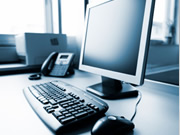 We are a full service on-site computer repair company on Long Island serving clients in Nassau and Suffolk with over 18 years experience fixing computer equipment and installing networks.
Our company was founded on the ideals that customer service and customer satisfaction are our number one priority. We strive to be the best computer repair service on Long Island.
GimmiBYTE was created to help people like you with all of your home and home office network technology and computer repair needs. Computers today are used for a wide variety of functions – work, a home office, school, or just for personal use. We know your time is valuable and will work diligently to get your computer working again as quickly as possible because we want to earn your business and more importantly, earn your confidence and trust of being the best and most dependable computer repair company on Long Island.
Our technicians are friendly, professional and knowledgeable because they are all trained and fully certified in the industry's leading technologies with companies such as Microsoft and CompTIA. They will always go that extra mile to ensure that every customer is pleased with our knowledgeable staff and professional service. Our commitment is to solve every technological and computer repair need of our clients.
We are primarily an on-site computer repair service. Our technicians will come to your home, home office or place of business to perform any computer repair, upgrade, set up, or installation service. They will run a thorough diagnostic on your computer to give you an accurate FREE Estimate before beginning the repair. Any repair taking longer than 3 hours (estimated or actual) our technicians may request to take your computer back to our shop for repair. Most in-shop repairs are completed within 24-48 hours unless a part(s) needs to be ordered to complete the repair. We keep a limited inventory of parts in our shop in order to keep most repair times to a minimum, but we will always keep you informed of any delays and how long it will take to professionally repair your computer.
Thank you for taking the time to get to know us better. We look forward to the opportunity of serving you soon. Feel free to Contact Us for all your network technology and computer repair needs.
Sincerely,
Frank Gimmi, Owner
GimmiBYTE, LLC