Submit a Data Recovery Case to Our Professional Lab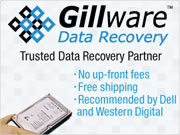 GimmiBYTE, LLC has partnered with Gillware Data Recovery to bring you the national industry leader in data recovery services, specializing in recovering data from all types of failed storage devices and many kinds of damage. Submitting a data recovery case to Gillware is financially risk-free. They will even provide you with a FREE UPS shipping label to get your device to their lab for a FREE evaluation along with a firm price quote. Work will only begin upon your approval and you can decline services at any time.
To begin, simply enter your contact and device information into the secure service form below and then press Submit case.
Data Recovery Case Submission Form – * are REQUIRED Fields

Remember, Gillware Data Recovery has a no data, no charge policy so there is no financial risk and never any obligation. There is absolutely no charge if they are unsuccessful in recovering your data. Once their lab engineers complete an evaluation of your device, they will contact you with a firm price quote and present you with a viewable list of recovered files. If you are uncomfortable with the price quote or unsatisfied with the recovery results, you can decline services at any time. If you're happy with the recovery results, pay for your case securely online and Gillware will ship the data back to you on a new external hard drive. GimmiBYTE, LLC is a preferred partner of Gillware Data Recovery, Inc.