Professional Virus Removal Services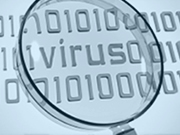 We can remove any Virus, Trojan Horse, Malware, Adware or Spyware and get your PC running at its peak performance.
Virus removal can be a time consuming process depending on the extent of the damage. We charge an $80.00 flat rate service fee for the first 3 hours of labor and $60 per hour for each additional hour, all covered by our 90 Day Limited Warranty.
Viruses can strike at any moment and take over your computer or destroy your important data. Viruses can attack your computer from anywhere in many different ways:
Emails and Attachments
Browsing the web
USB flash drives
Non secure wireless network
Non secure Internet connection
Symptoms that your computer may be infected by a virus are:
Slow overall performance
Hard drive constantly being accessed (a.k.a. thrashing)
Sudden unwanted and annoying "pop up ads" while web browsing
Involuntary website redirects
Computer freezes or locks up
BSOD - computer suddenly crashes displays the Blue Screen of Death
Computer fails to start up
A window suddenly pops open with a warning the user's computer is infected with a virus and then a virus scan is started that wasn't initiated by the user. This in most cases IS the virus.
A ransom note window suddenly pops open with a warning the user's files have been encrypted and demands payment in Bitcoins to decrypt the user's data. This is a virus known as Ransomware. To learn more about this threat and how to protect your computer and data, read our Ransomware FAQ's.
We try to complete most on-site virus removal repairs in 2 to 3 hours. Any repair taking longer than 3 hours (estimated or actual) our technicians may request to take your computer back to our shop. Most in-shop repairs are completed within 24-48 hours unless a part(s) needs to be ordered to complete the repair. We keep a limited inventory of parts in our shop in order to keep repair times to a minimum, but we will always keep you informed of any delays and how long it will take to professionally repair your computer.
We highly recommend purchasing Malwarebytes 3.0 Premium for $39.99 that we can install to prevent future virus attacks and infections. It is the most affordable and effective anti-virus protection program available. The Premium subscription gives the owner 1 year of virus definition updates or receive a 25% discount by upgrading to a 2 year subscription for $59.99 (Reg $79.98). Licenses for more computers can be purchased for an additional $10.00 for each computer license for a 1 year subscription or an additional $15.00 per computer license for 2 year subscriptions. Discounts are only available at time of purchase.