Data Recovery and Online Backup Services
Data Recovery Services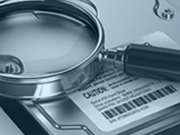 We know data loss can be a very difficult experience. That's why we want to make it as easy as possible for you to get all your important files back.
A good backup strategy is vital to your network and important personal files to protect against hardware failures and virus attacks which can happen at any moment.
Recovering your important data from a failing or failed hard drive or a virus that has corrupted your hard drive can be an extremely intensive and time consuming procedure.
Symptoms of a failing hard drive or virus may include:
Slow performance
Unusual noises or clicking sounds
Hard drive continuously being accessed (a.k.a. thrashing)
Disk errors and disappearing data
System/BIOS fails to recognize drive
Boot errors - computer fails to start up into Windows®
Computer locks up or freezes
BSOD - computer crashes and displays the Blue Screen of Death
Hard Drive Failure Do's and Dont's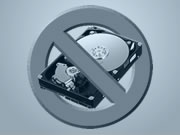 If your hard drive is exhibiting any of the above symptoms, this is most likely a sign that the computer's hard drive has failed or a hard drive failure is imminent. If the data on your computer is critical and you absolutely need to recover all your precious photos, videos, music libraries, office and financial documents, follow these hard drive failure do's and don'ts for the most successful data recovery possible:
DO back up your data early and often. It's not if your drive will fail, it's when.
DO stop using the drive IMMEDIATELY! Continued attempts to access the drive may cause damage to the hard disk platters that actually store the data.
DO contact the professionals at GimmiBYTE Data Recovery. If you are ready to submit a case to us, simply go to gimmibyte.com/submitacase.
DO NOT swap circuit controller boards with one from another hard drive. Even if the controller board is from the exact same hard drive make, model and size, a firmware or system area conflict issue can cause major problems.
DO NOT put your drive in the freezer and then try to spin it up. It is possible that moisture has condensed on the media surfaces. This WILL cause head contact to the platters and destroy the data on the drive.
DO NOT open your hard drive and expose the media. Only a qualified data recovery engineer in a certified clean room environment should ever open a drive.
DO NOT continue to power cycle a clicking or non-responsive drive; it's not going work for you and may cause more damage to the drive platters making the data unrecoverable.
DO NOT install recovery software on the same drive/partition that you're lost files are on, you will overwrite them with the installation.
DO NOT run the recovery or system restore CD/DVD furnished with your PC. Performing a default factory system restore or reset of the OS will overwrite all your current data making the data that was there unrecoverable.
DO NOT deliberately hit the hard drive in an attempt to make it work again. The impact may displace the head resulting in a head crash pushing you into more complex and costly case of data loss.
Storage Devices and Media
Storage technology evolves rapidly, and our engineers make sure our data recovery strategies can keep up.
We specialize in recovering data from all types of media and storage devices:
Desktop Hard Drives
Laptop Hard Drives
External Hard Drives
Solid State Drives

SD / microSD Cards
USB Stick / Flash Drives
Compact Flash Cards
Smart Phones & Tablets

RAID Arrays
NAS Devices
Servers
Tape / RDX Backup Media
Data Recovery Situations
Each data loss situation is unique. Our lab engineers have the tools and experience necessary to recover data from even the most difficult of data loss scenarios.
We recover data from these situations and many more:
Deleted Data
Corrupted Data
Dropped Hard Drive
Electrical Power Surges

Accidental Reformat
Scratched Platters
Head Failure
Spindle Motor Failure
Data Recovery Pricing
For residential data recovery services, we charge a FLAT RATE of $250 for the first three (3) hours of labor plus $60 per hour for each additional hour.
For commercial business, government, and educational data recovery services, we charge an initial fee of $250 for the first hour and then an HOURLY RATE of $120 per hour billed in quarter hour increments with a $250 MINIMUM charge for all data recovery on-site service calls.
Submit a Data Recovery Case – FREE Shipping, FREE Evaluation and NO Upfront Fees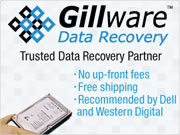 If for some reason we are unable to recover your critical data, it will require that your drive be shipped to our specialized forensics affiliate lab for accuracy. This can take between 5 – 8 business days and will cost $250 or more depending on the type of media device, the total storage capacity of the drive, the cause of the device failure, the physical condition of the drive and the overall complexity of the recovery.
GimmiBYTE, LLC has partnered with Gillware Data Recovery, a professional data recovery lab located in Madison, Wisconsin with over 15 years experience specializing in recovering data from all types of failed storage devices. With industry leading success rates, prices 40-50% lower than their competition and cutting edge engineering techniques, you can see why they're the trusted data recovery partners for companies like Western Digital and Dell.
To submit a data recovery case to our affiliate lab directly, start by clicking on the Submit a case button below. The secure service form will take you through the steps required to get your device to the lab.
Once complete, you will receive a FREE UPS® shipping label via email to send your drive to the lab for a NO-COST evaluation. Simply pack up your device, attach the shipping label and then drop it off at any UPS Store®. For help finding the nearest UPS drop off location, visit their website at ups.com/dropoff. To schedule a UPS shipment pickup, call 1-800-PICK-UPS (742-5877) or go online to ups.com/pickup (NOTE: UPS shipment pickup charges are not prepaid).
Once your drive arrives at our affiliate lab, they'll give you a courtesy call to let you know it is safe and sound. The lab engineers will take a look at your drive and assess the case. They will then give you a firm price quote for your approval. Next, you will receive a browsable list of all the files they will be able to recover. If you are satisfied with it, they will recover the data. Finally, submit your payment easily online. Once payment is received, they'll return your data on a new external hard drive.
There is a NO DATA, NO CHARGE policy so there is NO RISK and NEVER ANY OBLIGATION!
HIPAA Compliance
Upon request, Gillware Data Recovery offers a fully HIPAA compliant data recovery service for an additional $150 fee. This service includes additional security and safety measures in line with HIPAA requirements for protection of electronic health information.
Online Backup Services

To avoid costly data recovery fees, we highly recommend backing up all of your important computer data and files everyday. We know your data is important to you: from hours of work on documents to years of memories in photos. Don't risk losing your files due to a virus attack or hard drive crash. We can set up scheduled online backups of your important files and documents using the IDrive Online Backup software subscription plan.
IDrive Online Backup is a completely automated and reliable backup solution that offers a cloud-based alternative to external hard drive backups. With IDrive Online Backup you can be sure that your data is being backed up securely and remotely to eliminate the risks associated with on-site backups.
There are two subscription plans available:
An Internet connection is also required, however a high speed internet connection such as Cable/DSL/FiOS is HIGHLY recommended.
To set up IDrive Online Backup, just create an account on the IDrive website, download and install the IDrive Online Backup software. Then open the IDrive program and simply login to your IDrive account. It's that easy! Click here for step-by-step instructions.